UCAT Camillus Registration & Booking
The UCAT Camillus is a compulsory entry requirement for non-EU applicants to the following medicine and healthcare degree courses at Saint Camillus International University of Health Sciences (UniCamillus) in Rome.
Degree in Medicine & Surgery
Degree in Physiotherapy
Degree in Midwifery
Degree in Nursing
Degree in Biomedical Laboratory Techniques
Degree in Radiology, Diagnostic Imaging and Radiotherapy Techniques
UCAT Camillus Registration and Booking
Candidates are strongly recommended to apply at their earliest convenience to ensure places are available at their preferred test location.
Step 1: Online Account Registration
Registration opens: 13 January 2020 at 9am
Registration closes: 30 April 2020 at midday
You must create an online account with Pearson VUE before you can book your test.  You need to register for your test personally – this cannot be done by a school/college.  You should only create one account as multiple accounts are not permitted.
You must register with your legal name exactly as it appears on the photo identification you will present at the test centre.  If there is not an exact match, you will not be able to take your test and you will not be reimbursed for any fees paid.
Step 2: Booking a Test
Booking opens: 13 January 2020 at 9am
Final booking deadline: 30 April 2020 at midday
Testing begins: 4 May 2020
Last testing date: 10 June 2020
When the registration process is complete you will be sent an email containing a password which will allow you to log-in to your Pearson VUE account to book your test.  The test fee of £115 is payable at the time of booking by major credit card (Visa, Mastercard or UK Visa debit card).  You can make a booking until midday on 30 April 2020.
You should book a standard test (UCAT Camillus) unless you are entitled to extra time for public examinations based upon a medical diagnosis and may book the UCATSEN Camillus (+25%).  You will need to supply evidence of your entitlement to extra time to UniCamillus.  It is your responsibility to book the correct test.
Availability of test slots will be limited in the last week of testing.  You may not be able to find a convenient appointment and you may have to travel some distance to an available test centre.  We therefore do not advise that you wait until this time to book a test. You cannot book a test by email.
UCAT Camillus Test Format
The UCAT is a two-hour computer-based test.  It consists of five separately timed subtests which assess a range of mental abilities identified by university medical and dental schools as important.  Each subtest contains a number of items in a multiple-choice format.
Candidates either sit the standard UCAT or the SEN version if they are entitled to additional time due to a documented medical condition or disability.
UCAT Camillus Subtests
Items
UCAT Timing*
UCATSEN Timing**
Verbal Reasoning
Assesses the ability to critically evaluate information presented in a written form.
44
22 minutes
27.5 minutes
Decision Making
Assesses the ability to make sound decisions and judgements using complex information.
29
32 minutes
40
minutes
Quantitative Reasoning
Assesses the ability to critically evaluate information presented in a numerical form.
36
25 minutes
31.25 minutes
Abstract Reasoning
Assesses the use of convergent and divergent thinking to infer relationships from information.
55
14 minutes
17.5 minutes
Situational Judgement
Measures the capacity to understand real world situations and to identify critical factors and appropriate behaviour in dealing with them.
68
27 minutes
33.75 minutes
Total Time
120 minutes
150 minutes
* Each UCAT subtest includes 1 minute of instruction time.
** Each UCATSEN subtest includes 1 minute 15 seconds of instruction time.
Practice Tests and Resources
You should prepare for the UCAT using the free practice materials which have been developed by the UCAT Consortium to support test preparation.
We recommend you start by looking at our UCAT 2019 Preparation Plan which provides a suggested approach and timetable for preparing for your test.

Our three, fully timed practice tests, which mimic closely the testing experience, are an essential part of your preparation.  These are intended to be viewed on desktop rather than mobile devices, so as to accurately reflect the live test experience. Please note that when you take the live test your correct and incorrect answers will not be reported.

10 question banks containing 400 official questions from all five subtests. Use these to familiarise yourself with the type of questions you will see in your test. Answer rationales are also provided for all questions.  These are intended to be viewed on desktop rather than mobile devices, so as to accurately reflect the live test experience.

An interactive tutorial which includes general advice on how to approach the test as well as strategies on how to approach and answer questions in the Verbal Reasoning, Decision Making, Quantitative Reasoning, Abstract Reasoning and Situational Judgement subtests.

A tutorial which illustrates all the functions used in our computer-based tests including how to answer and review questions.

Download the UCAT Official mobile app for Apple and Android users. This cannot replicate all question types from the live test but is a useful preparation tool to complement our other resources.  You can practise questions on the go and it's great for when you only have a few moments to squeeze in some UCAT preparation.

The official UCAT YouTube channel has a number of videos to support preparation. High-scoring, former UCAT candidates share advice on their preparations for the test, plus a selection of University Admissions Tutors share their thoughts on the use of the test. There are also videos showing what to expect in a Pearson VUE test centre and a playlist of videos from our member universities.

The 2019 official guide contains definitive information regarding the test including over 130 practice items. Click the icon for an interactive version online or download a PDF.

The UCAT Team are on Instagram @ucatofficial and Twitter @ucatofficial – follow us to see extra FREE practice questions not available anywhere else, plus lots more advice, top tips and reminders.

Schools/Colleges can use these resources for advising prospective candidates about the UCAT.
Calculator
A simple on-screen calculator will be available for the decision making and quantitative reasoning subtests. To access this click on the icon in the top left hand side of the screen. The calculator will look similar to this:

The calculator is integrated into the practice tests and we strongly recommend that you familiarise yourself with the functionality.  There are slight differences between the way the calculator works in the practice test environment and the live test.
In the live test the calculator closes when clicking away or moving to another question.  It can be recalled by clicking on the icon; current calculations should be retained.  To clear the calculator click the ON/C button.  The calculator can be operated by using the mouse or the number pad on the keyboard; ensure that 'Num Lock' is on for the number pad to work.
Please note that due to limitations with the web browser format the practice test calculator does not retain calculations when clicking away or moving to another question.  In the practice test calculator decimal numbers need to be entered in full (e.g. 0.5 not .5).  In the live test calculator decimal numbers can be entered either way.
If you require assistance with the calculator during your test you should raise your hand to attract the invigilator.
Keyboard Shortcuts
Keyboard shortcuts can be used to navigate through the test if you find this preferable to using the mouse.  Wherever there is a letter underlined, the Alt key can be used with the underlined letter as a keyboard short cut.  An example would be Alt + N = Next (as displayed below) and Alt + P = Previous.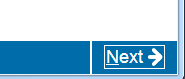 The shortcuts available at any time during the test depend on which screen is currently being viewed.  Keyboard shortcuts cannot be used to select answers to questions; this has to be done by using the mouse to select the desired response, and in some cases to drag and drop an answer.  You can familiarise yourself with this, and other aspects of navigation, by using the practice tests available on our website.
Noteboards and Pen
You will be given a marker pen and a set of noteboards to make notes during your test. If another noteboard is required, you should raise your hand and request one from the invigilator.  The invigilator will have checked the pen is working before giving it out.  You may wish to check this before your start to avoid the need to seek assistance during testing.  If you are not given noteboards and a pen when you enter the test room, you should request them by raising your hand. Not requesting these items will not be considered a mitigating circumstance.

Commercial Preparation Materials
Candidates should be aware that whilst there are many commercial companies publishing books and offering coaching for our tests, the UCAT Consortium does not work with any of these companies or endorse the use of their materials. Taking advantage of these opportunities can cost candidates a great deal of money and we would advise you to be sceptical about claims they can help you do well in the test by coaching.
Commercial organisations will be using questions that are not necessarily of the standard you will encounter in the UCAT and this may distort your performance whilst practising. Screen views may be different and commercial organisations are unlikely to include the new question types which you may encounter in your test. They may also not replicate the UCAT scoring and banding accurately and may give misleading indicators of your anticipated UCAT score.
There is also lots of advice available for free on the web regarding approaches to the test and many sources of free practice questions. However, unless the material has been published very recently it is unlikely to include the correct test content, test questions, etc.
We therefore strongly advise candidates to use the official Practice Tests and Question Banks on our website, and to be cautious about using resources from any commercial providers as these are not affiliated with UCAT in any way.