Medicine and Surgery Course Details
| | |
| --- | --- |
| Teaching Language | English |
| Non-EU Seats | 40 |
| EU Seats | 60 |
| 2022 IMAT Score (Non-EU) | 41.9 |
| 2022 IMAT Score (EU) | 44.4 |
Facts About The University
| | |
| --- | --- |
| QS Ranking | 801-1000 |
| Founded in | 1117 |
| Number of Students | 28.169 |
| | |
| --- | --- |
| Academic Stuff | 1.007 |
| Status | Public |
| Fees | 156€-3500€ |
The University of Parma was founded in 1117 as the Universita degli Studi di Parma and is a non-profit public university in the urban area of the small town of Parma with a population of  50,000 in Emilia-Romagna. The university has 18 faculties, 35 initial courses, 6 single-cycle courses, 38 secondary courses, many postgraduate and teaching programs, and several master's degrees and research doctorates.
The University of Parma offers various services and facilities for students such as orientation courses, computer laboratories, language centers, libraries, study rooms, museums, foreign language courses, scholarships for students, welcome points, assistance for students with disabilities, and disadvantaged people and sports facilities. These achievements make the university one of the most important and well-known university centers in Europe. Students have many facilities at their disposal to improve the quality of their studies and university life.
Many students come to Parma from all over Italy because of the size of the institution and the quality of the city's living environment. Students are able to study in convenient structures close to green spaces thanks to the university's various locations, such as the Campus, a 77-hectare area south of the city that houses a variety of sports facilities, a conference center, and a canteen in addition to scientific departments, contemporary lecture halls, and comfortable study spaces. Good relationships with international institutions, a vibrant student exchange in terms of community programs, including numerous scholarships, and information and career guidance services are all available to assist students with their decisions linked to attending university.
Medicine and Surgery Program at The University of Parma
The number of international students studying medicine and surgery at Italian Universities has steadily increased. The University of Parma, which already teaches medical courses in Italian, has just opened its brand new medical course in English in another location, in the city of Piacenza.
Students will develop comprehensive medical knowledge, from health promotion to emergency medicine, from applied research to the latest medical technologies to health economics and management. The course is entirely conceived in an international context. The use of English will tremendously facilitate students' communication abilities with patients and colleagues all over the world during their professional activity, both in biomedical research and in clinical medicine.
The Medicine and Surgery program at the University of Parma aims to give students a well-rounded education by integrating academic theory with real-world experience. The curriculum heavily emphasizes practical experience, with mandatory clerkships beginning in the second year. A variety of healthcare settings, such as biomedical research, general medicine and surgery, pediatrics, and gynecology, will be explored by students.
The University of Parma's Medicine and Surgery program offers students the chance to do clerkships abroad, which is one of its special features. Students may spend time at European healthcare institutions during their sixth year of the program thanks to special agreements that have been implemented in this regard. Although it is unknown to what extent these clerkships are exclusive to the University of Parma, it is certain that the program's concentration on researching healthcare systems in various countries during the fifth year gives this experience a good foundation.
Course Structure
The total course program for Medicine and Surgery is divided into 6 years. The teaching is held in 2 semesters every year, starting in October and also in March. In order to graduate, students must fulfill 360 ECTS credits (CFU).
First-year Courses
Physico-Chemical Bases of Life

Cells and Tissues

Molecular Biology, Genetics, and Genomics

Statistics, Research Methodology and Safety Regulations
Second-year Courses
The second-year lectures constitute the fundamentals of ;
The Physiopathology of Diseases

Clinical Microbiology
Third-year Courses at The University of Parma Medical School
This year is dedicated to disciplines in clinical approach and also biomedical technologies. Laboratory medicine, endocrine, metabolic, and gastrointestinal illnesses, neurological sciences, psychiatry, hematology, oncology, respiratory diseases, allergology, cardiovascular diseases, and biomedical technology are the main topics of the third year of the curriculum.

Fourth-year Courses
Medical Therapies

Public Health

International Health Systems

Risk Management in Clinic
Fifth-year Courses
Clinical Rotation I

Clinical Rotation II
Sixth-year Courses at Medical School at the University of Parma
The program's sixth and final year, which involves three clinical rotations in internal medicine, surgery, and community medicine, is devoted to practical training and research. Additionally, students will write a thesis, which is a requirement for the degree.
Tuition Fee at The University of Parma
Tuition fees are calculated individually according to the ISEE (Equivalent Economic Status Indicator). ISEE is a criterion used to evaluate the family's economic status, also used at all public universities in Italy. Therefore, annual tuition fees range from 158 € to 3500 €, depending on many factors (parents' income, full/part-time studies, etc.).
You can look at our "Tuition Fee for Medical School in Italy" article for detailed information.
Admission Requirements
It's essential to be aware of the entrance guidelines if you're thinking about enrolling in the University of Parma's programs in medicine and surgery. You must successfully complete the International Medical Admissions Test (IMAT) in order to enroll in the University of Parma's English-taught Medicine and Surgery program. To study medicine and surgery in Italian, you must, however, pass the TOLC-MED test. It's essential to note that, depending on the program and language of education, the entrance requirements may change.
Admission to the English-taught Medicine and Surgery program is based on passing the IMAT test. The IMAT test is intended to be a fair and objective method of evaluating candidates' abilities. It evaluates the broad knowledge and skills essential for an occupation in medicine. The test covers topics including critical thinking, chemistry, biology, and physics.
We advise you to concentrate on the English-taught Medicine and Surgery curriculum if you don't speak Italian. This is actual because many Italian colleges include instructors who teach both the Italian and English versions of the medical program. This indicates that regardless of the language used for instruction, you will have access to the same level of education.
You must also submit an online application and translate your documents in addition to completing the IMAT exam.
You can look at our "Admission Requirements for Medical Schools in Italy" article for more detailed information.
Student's Life in Parma | The University of Parma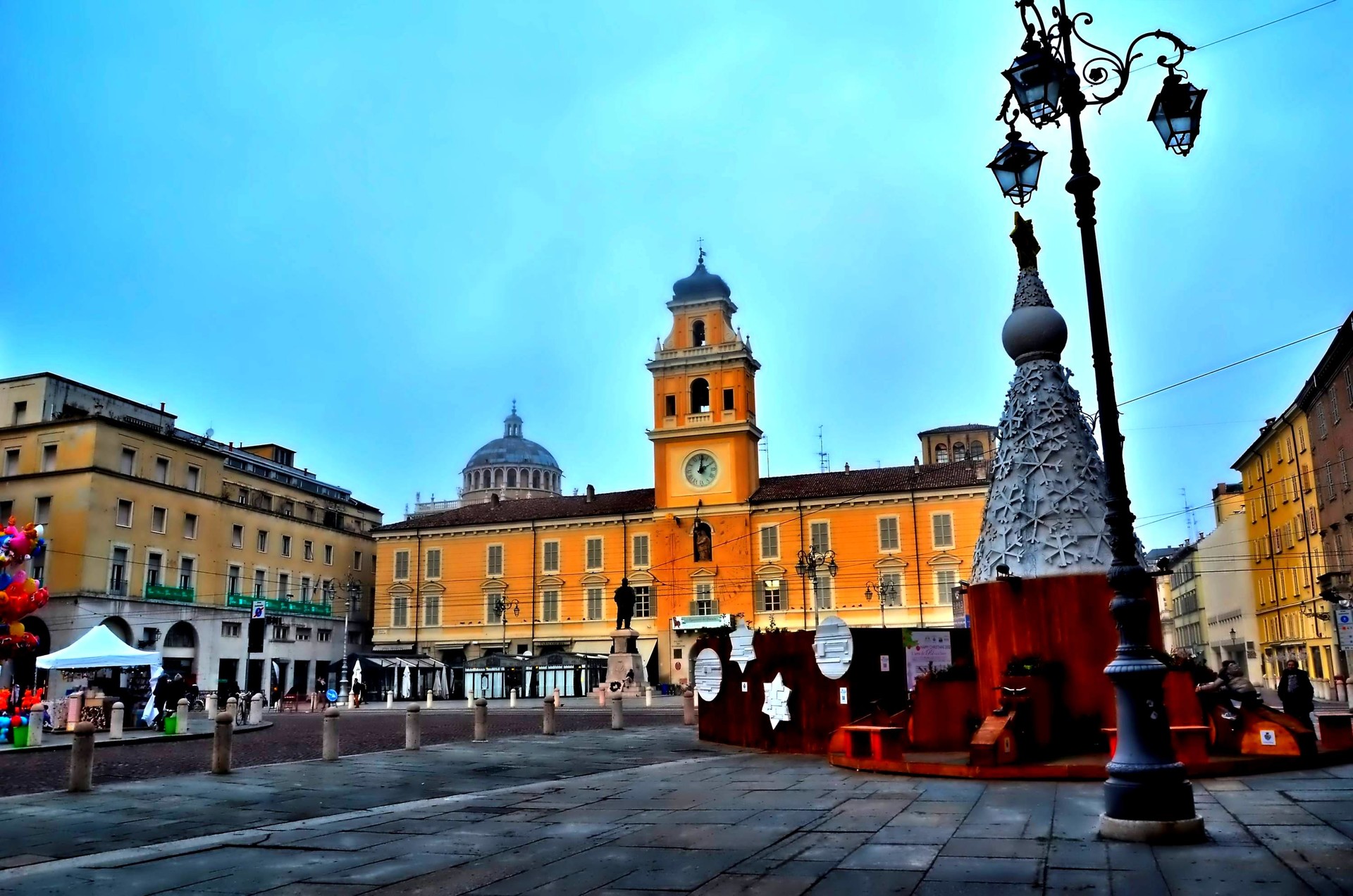 The University of Parma provides a variety of services and amenities for students, including incoming and outgoing orientation, computer labs, a Language Center, libraries and study rooms, museums, foreign language courses, scholarships, a students welcome point, assistance for students with disabilities and for underprivileged individuals, sports facilities, and etc.
There are plenty of things to discover and see in Parma, and the locals are very welcoming and hospitable. The city is also quite user-friendly, making traveling simple.
The university has one of the largest percentages of international students at a higher education institution because more than half of the students are from other Italian regions.
To completely fulfill the aim of providing students with a wide-ranging and genuine experience that promotes personal, intellectual, and professional progress, hospitality, research, and innovation are essential. One of the most significant universities in Europe, which upholds its historic significance while looking to the future, places students at the center of all university operations.
Students may view more of the Po Valley to the north and the woodlands of the Apennines to the south in the countryside, which is near to the university campus and the city itself. The Ligurian Sea is also accessible in an hour by vehicle and makes for the ideal break from studies.
The University of Parma takes use of the city's advantageous mix of florid economic activity, particularly the great food sector and the usual optimism of the residents of Emilia Romagna. The high standards of living in Parma are instantly visible.
You can take a look at our "Student's Life in Parma" article for more detailed information.
Career Opportunities | The University of Parma
When looking for employment, University of Parma graduates are at a significant advantage. In Fact, the most recent AlmaLaurea analysis shows that after a year of receiving their degrees, 78,3% of bachelor's degre graduates and 76,8% of master's degree graduates find a job, with that number rising to 88,5% after five years. An outcome that is superior than the national average and demonstrates commitment of the university to the education of its graduates and their future.
Goal of the university is to forge solid ties with organizations and businesses to help in the transition of students from college to the job market.
The University of Parma hosts a Job Day each year as a way for businesses and students to network.
For international students interested in pursuing a career in healthcare, the Medicine and Surgery program at the University of Parma provides a distinctive and fascinating option. The curriculum equips students with the skills and knowledge required to succeed in the area of Medicine and Surgery with a focus on hands-on training, a well-rounded education, and the chance to conduct clerkships abroad.
Articles About Medical Schools
Studying medicine in Italy is a long adventure that will never come to an end. This beautiful country does not only […]